Hovedudfordring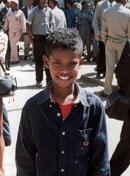 50% af befolkningen er muslimer. Eritrea er et strengt diktatur i stadig konflikt med nabolandet Etiopien.
Evangelical Lutheran Church i Eritrea (ELCE) er den eneste evangeliske kirke, som myndighederne har godkendt. Norea Radio Danmark vil gennem støtte til radioprogrammer nå længere ud med oplysning og kristen forkyndelse til folket i Eritrea.
Helhedssyn
Programfladen udtrykker et helhedssyn på mennesket, så der både er plads til evangeliserende og undervisende programmer samt udsendelser, der behandler menneskerettigheder og sociale forhold. Det varierede udbud består af børne- og familieprogrammer, lytterønsker, magasin- og sociale programmer, forbønsprogrammer samt bibelundervisning og minigudstjenester. Der sendes to timer om dagen på kortbølge fra Trans World Radios sendestation i Johannesburg, Sydafrika.
Programmerne når frem
Radioarbejdet har et godt omdømme i Eritrea og Etiopien. Mere end 70% af befolkningen er radiolyttere. Udsendelserne når helt frem til mennesker i afsides områder, på slagmarken og i fængslerne. En høj grad af analfabetisme gør radioen til et uundværligt instrument i udbredelsen af evangeliet i de to fattige afrikanske lande Eritrea og Etiopien.
Bed for Eritrea
Bed om at radioarbeidet i Eritrea må være en kristen stemme ind i samfundet og være en klar vejviser til Jesus som den eneste frelsesvej.
Bed om at radioprogrammerne må nå længere ud
Bed om at lytterne må blive frelst og komme med i en menighed.
Bed om fred i striden mellem Eritrea og Etiopien.
Støtte
Fakta om Eritrea

Indbyggere: 4,9 millioner
Sprog: Afar, arabisk, tigre og kunama, tigrinya m.fl.
Religion: Muslimer, kristne (koptiske, romersk katolske, protestanter)
Historie
Eritrea blev tildelt Etiopien i 1952 som en del af en forbundsstat. Etiopiens annektering af Eritrea som provins 10 år senere udløste en 30 år lang kamp for uafhængighed, som sluttede i 1991 med at rebeller fra Eritrea besejrede regeringens styrker. Uafhængigheden blev i 1993 godkendt ved en folkeafstemning. En to et halvt år lang grænsekrig med Etiopien, som brød ud i 1998, blev afsluttet med FNs protektion i december 2000. På grænsen til Etiopien er der nu en FN fredsbevarende styrke, som overvåger en 25 km bred midlertidig sikkerhedszone. En international kommision, som blev dannet for at løse grænsekonflikten, meddelte sit resultat i 2002. Trods det var ingen af parterne i stand til at nå til enighed om, hvordan beslutningen skal føres ud i livet. Kommisionen for grænsedragningen opløste sig selv i slutningen af 2007 efter at have fastlagt grænsedragningen ved brug af koordinater. Eritrea har siden accepteret grænsedragningen, men det har Etiopien ikke, og de holder stadig nogle omdiskuterede områder besat, som ifølge grænsedragningen skal tilhøre Eritrea.
(Kilde: www.cia.gov)